Tutorial
Find and Replace Options
One of the more unusual features of MultiEd 2.35 and above is that there are 3 options for the Find and Replace operations. In addition to the traditional floating Find or Replace dialog boxes,


one can have MultiEd handle Find and Replace operations on panels just above the status bar


or just below the tool bar


Note: The Replace panel is shown in the first two images, the Find was shown in the last. Please observe that all three options allow both Find and Replace operations.
The bottom location of the find and replace panels was inspired by FireFox. If you are not used programs using this location of the panel, you may take a little time to get used to this location. However there are some advantages. The panel is always in the same location. The panel never hides other parts of the MultiEd window. This is particularly helpful in MultiEd because the find and replace dialogs remain open until closed, not just until the operation is completed. The top and bottom locations actually allow more operations than the traditional dialog.
Selecting the Find and Replace location
The location of the Find and Replace panel is selected in the Options | Global Settings dialog.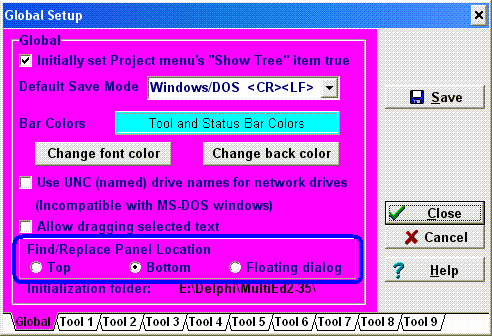 After selecting "Top", "Bottom", or "Separate dialog", you can click "Save" if you want to make the change permanent. Click "Close" to close the dialog. You will have to click the "Find"

or the replace button
or the corresponding menu items in the Find menu before the change is actually made.
Return to the beginning of this file Return to the tutorial home page
Revised: 10/4/2011